This statement related to the protection of personal data ("the Statement") aims at explaining how Eurial Ingredient & Nutrition collect your personal data through our various channels (such as our websites, stores, customer relation centres, etc.). It also contains information on the type of data collected, how and why we treat the data, in order to ensure that its use suits your needs in the best possible way.
For the purpose of the Privacy and Cookies Statement, the terms below are defined as follow:
1. Our commitment to the protection of personal data
2. How do we collect your personal data?
We collect your data through all digital means; our websites, the pages devoted to the goods or brands of our company on the internet or on social media, electronic communications or your interactions with the banner advertisements of the brands of our company. All of your contacts with our Customer Services departments also enable us to collect information about you. We collect certain data by using cookies in order to have a better understanding of your browsing patterns and actions on our websites. In other cases, you communicate your information to us directly when you contact us, when you make a purchase on our websites, during in-store activities, in trade fairs, by completing offline registration forms or by taking part in market surveys.
3. Which personal data do we collect?
We can collect various types of information from you, which differ according to the purposes, as described below, depending on your mode of interaction and communication with Us (online, offline, telephone, etc.):
4. What is our policy regarding children's personal data?
We believe that it is extremely important to protect the privacy of children when accessing the internet, and we encourage parents or guardians to spend time with them to take part in and supervise their online activities.
On some of our websites, access to the website and/or the creation of an account are reserved for persons over 18 years old.
You should therefore ensure that your children do not give their personal data or your personal data on the internet without your prior authorisation. Indeed, any person under 18 years old may only communicate their personal data through a parent or guardian with their specific consent. You are entitled to check, amend or erase personal data about your child at any time. You may also request the erasure of the data related to your child by sending a letter to the address given in the contacts section indicated in Question 9 – "What are your rights and how can you use them?" ».
5. What do we do with your personal data?
Please find below, in the table, the purposes sought by Us when collecting and processing your personal data, along with the various types of personal data collected for each purpose. Please note that certain persons may not be affected by some of the uses listed below. Please note that certain persons may not be affected by some of the uses listed below.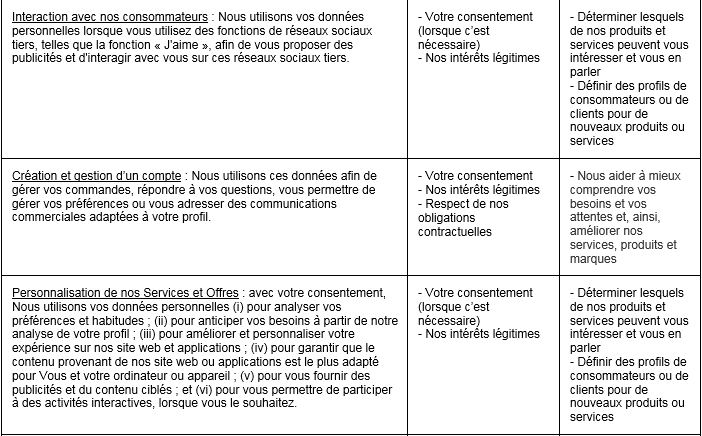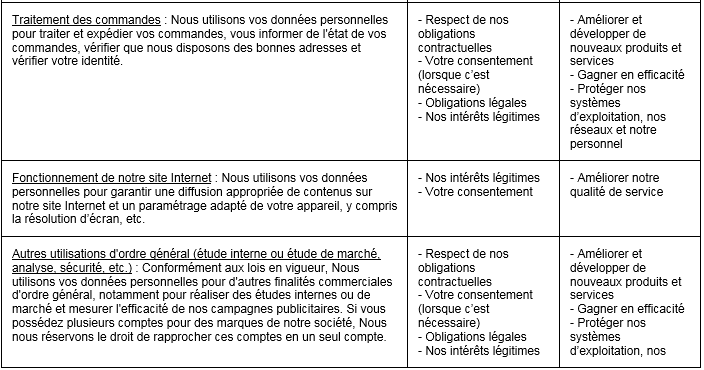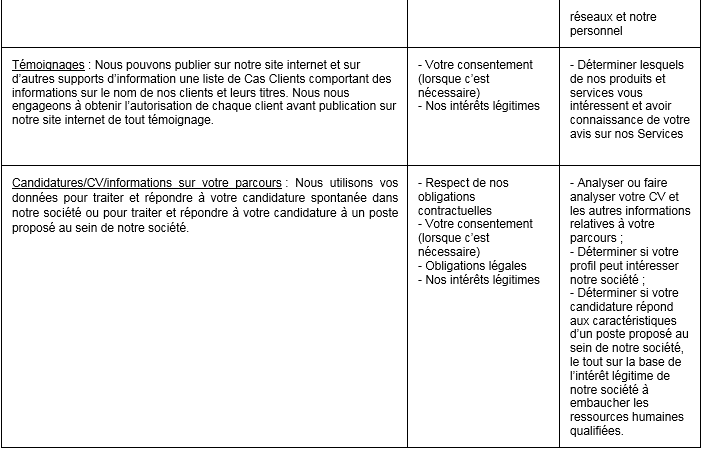 6. Does Eurial I&N disclose your personal data and why?
When we are required to share your data with our various websites with other structures (such as service providers), we ensure that these organisations also have a safety policy to protect your data.
As set forth in "1. Our commitment for the protection of personal data", your personal data will not be shared, sold, rented or disclosed for purposes other than those described in the Statement. In this respect, unless you have given your consent, we will not sell your personal data to third-party firms for their own marketing purposes. However, it is possible that your data will be communicated if required, for example, by the law or state authorities. In the event of a transfer of activity to another company, the legal transferee will have access to the data held by the transferor entity and therefore to some of your personal data.
7. How long do we keep your personal data?
Your personal data will only be kept by Us for the period reasonably required for the purposes described in this Statement. The criteria that we use for defining the periods of conservation of your personal data are as follows:
Your personal data may however be kept for longer as part of specific legal obligations or in light of the legal limitation period applicable.
Beyond the periods of conservation indicated above, your personal data will either be erased from our databases in a safe way, or made anonymous.
8. How do we protect, store and transfer your personal data?
We use all technical and organisational measures required in order to guarantee the confidentiality and security of your personal data. Please note however that these measures do not affect the information that you choose to share in public, in particular on third-party social media.
As regards your financial data, we apply the industry's standards in terms of protection and we respect the legal obligations. Your information is encrypted when you make online purchases on our websites.
You may also help us to guarantee the protection of your data by using the confidentiality settings of our websites, by choosing a complicated password for your connection and by being careful when connecting to your account on a public device.
The storage and processing of your personal data requires that your personal data be transferred, at a certain time, and stored in a country other than your country of residence. The personal data may be processed outside of the European Economic Area (EEA). If this is the case, we will endeavour to ensure that this international transfer of data is performed with the appropriate level and guarantee of security. The guarantees that we use to protect the international transfers of data include (i) standard contractual clauses validated by the European Commission, (ii) certification mechanisms to establish that the third parties located outside of the EEA process the personal data in a way that complies with the Regulations.
9. What are your rights and your choices; how can you use them?
It is important for us that you may use your rights and make the most informed choices possible, as regards the personal data that you communicate to us.
In the following table, "you" refers to: "yourself, your descendants, representatives and/or agents"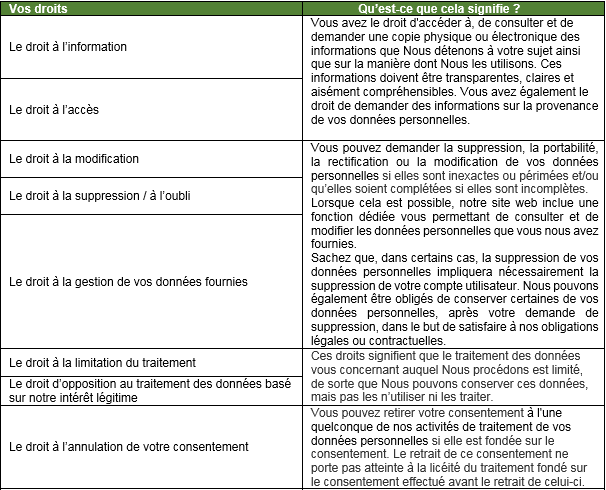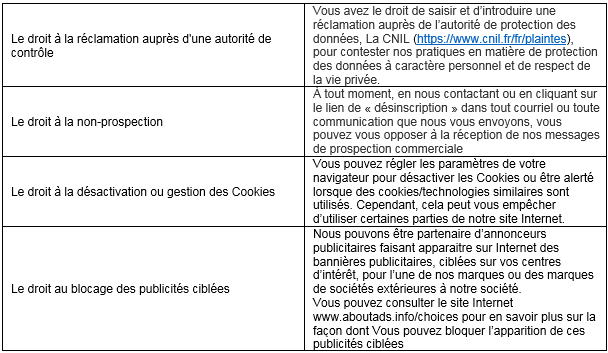 You may use these rights as indicated in the relevant pages of this website.
We will ask you to enclose a copy of your ID card or any other proof of identity, with your request. If the request is submitted by someone other than you, without any proof that the request is legally made in your name, it will be rejected. If the request is submitted by someone other than you, without any proof that the request is legally made in your name, it will be rejected.
Please note that any information communicated to us will only be processed in compliance with and as authorised by the laws in force.
We will process and analyse any claim related to the way in which we manage your personal data (including a claim indicating that we have infringed your rights according to the laws applicable on protecting privacy).
10. Amendments made to our Privacy Statement
In the event of an amendment in the way in which we manage and process your personal data, we will update this Statement. We reserve the right to amend our methods and this Statement at any time. Please check the presence of updates or amendments to our Statement, on a regular basis.