The role of Clinical Nutrition products is to provide nutritional intake that is adequate in net terms and which cannot be fulfilled by a normal diet. They can help patients get adequate energy or protein intake, or meet their needs for vitamins and minerals.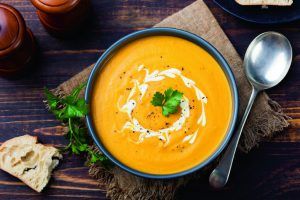 Why choose Eurial I&N products in Clinical Nutrition?
To restore the enjoyment of eating
For hospital patients, and those suffering from nutritional deficiencies, eating is not always enjoyable. Food for patients can be monotonous and unappealing, so that patients often do not finish their meals and therefore don't get the calorie intake they need.
EuriNutri™, a range of native milk proteins derived directly from skimmed milk, is made using a very specific process that employs membrane filtration technology to preserve the quality of whey.
Our nutritional solutions are ideally suited for incorporation into many applications, such as protein-enriched soups or cream desserts for appetising recipes.
Easily digested proteins with a high leucine content
In order to provide all the required nutrients in a minimum volume, and to meet the needs of people with nutritional deficiencies (who have often lost their appetites), it is necessary to choose food sources with high nutritional value.
With its easy digestibility, EuriNutri™ 80 NS is a source of fast protein that is particularly rich in leucine. This helps overcome the lack of muscle protein synthesis following mealtimes that is often observed in the elderly.
Discover the perfect products for Clinical Nutrition
80% whey protein concentrate, from high-quality PDO cheese production.
Instantised soluble native milk protein concentrate 80.
Chlorella powders, produced using a patented fermentation process.